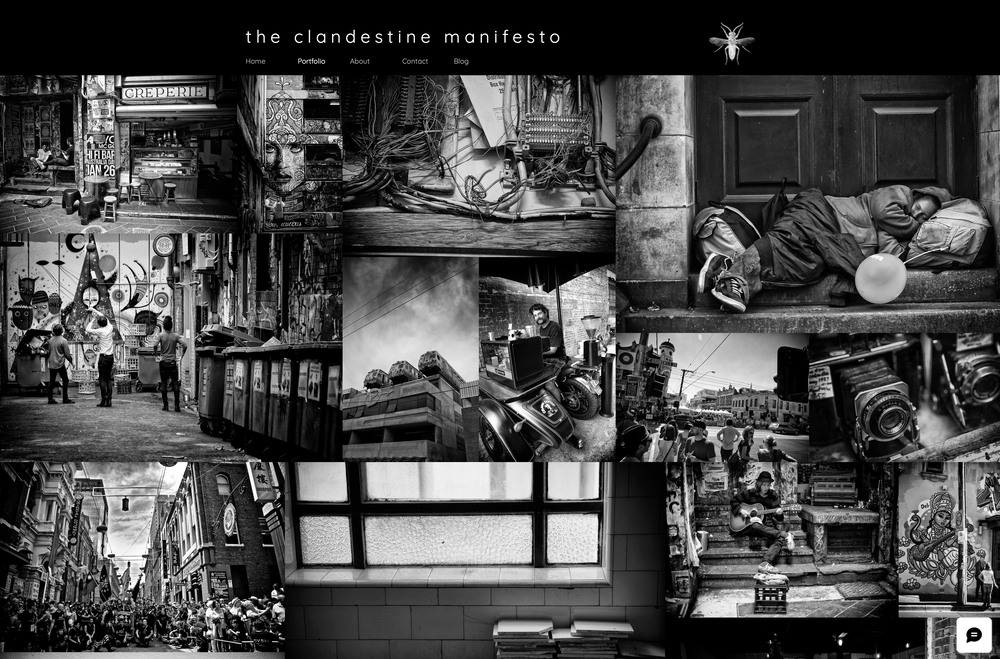 Well, where does one begin? I guess at the start would be a good choice! I guess the first thing one would ask is what does the name mean and were did it come from?
I always loved the word 'clandestine'. Over the years I have always jotted down words and phrases that sound cool either by themselves or merged. Said list has words such as 'clandestine', 'visceral', 'manifesto', etc etc. Marrying the words Clandestine Manifesto sounded cool and, I feel, a good description of the type of street photography I enjoy.
Years ago, I created a logo for this Clandestine Manifesto project. There were many attempts at getting a site off the ground but time was a factor and the project kept getting shelved.
This time around, I thought I would hire someone to put it all together for me. Beaut! Someone else can deal with all the bullshit! (Sorry, 25 years as a web designer and I am over it!)
So, I hired someone.
By the time I explained all I wanted and how I wanted it to work – I had basically built the rough template and the rest could be populated by me at my pace (which is pretty fast!) and at my time.
So much for getting assistance on this thing!
Anyway, the Clandestine Manifesto will feature my street photography dating all the way back to 2003 until the present day. I have been photographing so many aspects of Melbourne in this time and there was quite a substantial amount of work that I wanted to be seen. What's the point of having a photograph that just remains in your archives and no one sees?
The vast majority of my street work is in black and white. Which is not to say I don't have any colour shots of our magnificent city. Those too will be presented here in due course and in various parts of this website.
None of the photos within are staged in any way. They are as raw and visceral as Melbourne can be at any given time.
Most of my audience know me as a live music photographer and that will be showcased on another site. For now, let's get down and dirty and oh so urban!
See you on the streets!