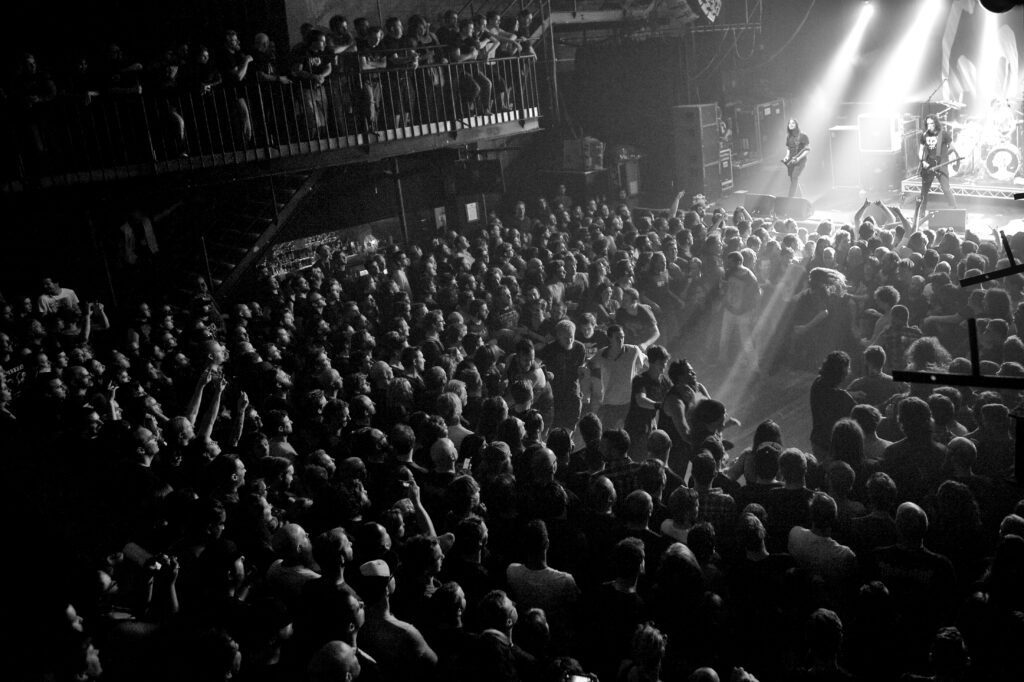 Fourteen Years Ago Today – I shot my first gig…
I set foot in a rock n roll photo pit for the first time 14 years ago tonight. But I can assure you, it feels a helluva lot longer than that.
If you had told me then on that fateful night what would transpire over the course of the next eleven years, I don't think I would believe you. Because it is all pretty unbelievable.
The original lineup of the Angels were playing two nights at Melbourne's Forum. Out of the blue, I tracked down details of the band's management and fired off an email asking if I could photograph the show. I was not expecting any sort of reply.
Moments later the band's manager replied and granted me access. I had a photo-pass to shoot the gig.
Shit! Now what?
With my Canon 400D and a kit lens that came with the camera I made my way to the Forum.
The pass was waiting for me. I wore it around my neck like some sort of trophy but as I made my way to the front of the venue to enter the photo-pit, quietly, I was shitting myself.
The Angels were one of Australia's definitive Hard Rock acts. There they were right in front of me. The loud hiss of the guitars were driving my ears into overdrive, but the audience behind me was even louder. Every fibre of my being was being pummelled by sound, volume and adrenaline coursing down and up my spine like a serious massage.
Fuck! One can get used to this.
I clicked away as best as I could and as much as my ability allowed me to. When the first three songs were over, the shoot was over.
Watching the show from within the crowd, Doc Neeson peered into the throng and demanded that the photographers be allowed back in the pit! "Let them shoot the whole show!" he said.
Back into the photopit I went. With my limited knowledge, with my inferior gear my card was now quickly full of shots. In the pit and in the dark, I went to change cards. Without looking at what I was doing, I jammed the card into the camera the wrong way around. This proceeded to bend all the camera's connector pins and rendered the entire camera useless.
First gig. First opportunity. First band I ever photographed. And now my camera was destroyed.
The next eleven years I have photographed some of the world's biggest acts on stages throughout Australia. I have had my work published in books, magazines, posters, advertising billboards, t-shirts and various other band merchandise. I have been in 4 photography exhibitions and exhibited in Sydney, New York and Los Angeles. I have one of my photos on permanent display at the Smithsonian Museum exhibit of Rock And Roll and countless of other accolades and the like.
It could not have been done without the following people:
Anthony Allayialis, Rom Anthonis, Frazer Bourke, Adam De'ville and all at Collide Art & Culture Magazine, Sam Difference, Dysie Dyson, Ace Frehley, Bailey Graham and Matt Maric and all at Overdrive Magazine, John5, Key Of Solomon, Nick Lord, Robert Macmanus, Chris Maric, Metal Obsession, Leticia Mooney, Carl Neumann and all at HEAVY, Offshoot Rentals, John Ostrosky, Mike Parker, Olivia Reppas, Anwar Rizk, Rone and all at Everfresh, Silver Tiger Media, Vinyl Space Records, Neil Wedd, David Williams, Irene Wyatt – and so many more I have forgotten.
It could not have been done with the following artists who I have photographed over the course of the last 10 years:
(this list needs to be updated, but at the 10 year mark it read)
1349
69 Eyes
Abbath
Accept (2014, 2017)
AC/DC
Adam Ant
Adalita
AFI (2014, 2017)
American Sharks
Author & Punisher
Barry Adamson
Alkaline Trio
Airbourne (2011, 2017)
The Amenta (2013, 2014)
Amon Amarth (2009, 2012, 2014, 2018)
Amyl & The Sniffers (2018, Record Store Day 2018)
Andrew WK
The Angels
Anthrax
Anvil,
Arch Enemy (2009, 2012)
Armored Saint
Atreyu
Bane Of Bedlam
Baroness (2014, Soundwave 2014)
Beastwars (2015, 2016)
Behemoth (2010, 2013, 2015)
Bellusira
Belphegor
Blackhelm (2016, Promo Shoot)
Black Label Society
Black Rheno
Black Sabbath
Blaze Bayley
Bleeding Through (2009, 2013)
Blue Öyster Cult
Blues Pills
Bölzer (2015, 2018)
Brujeria
Buckcherry (2013, 2016)
Bullet For My Valentine
Cane Hill
Cavalera Conspiracy
Nick Cave & The Bad Seeds
Cheap Trick
Child
Children Of Bodom (2011, 2014)
Chimaira
Church Of Misery
City Of Fire
Les Claypool
Clowns (2015, 2016, 2018)
Clutch
Combichrist
Converge
Alice Cooper
Cosmic Psychos
Counterparts
Cradle Of Filth (2013, 2018)
Cult Of Luna
The Damned
Darkc3ll (2014, 2015)
The Darkness
Dark Funeral (2010, 2012)
Dead City Ruins (2015, Promo Shoot)
Death Angel (2009, 2014, 2018)
Death Of Art
Deathstars
Decimatus
Deftones (2013, 2014, 2016)
Devildriver (2009, 2014)
Denouncement Pyre (2015)
Desecrator (2014, 2018)
Destruction
Paul Di'Anno
Dimmu Borgir
Diocletian
Die Antwoord
Dillinger Escape Plan
Dream Theatre (2009, 2014, 2017)
Dropkick Murphys (2009, 2011)
Dope
Down
Dying Fetus
Electrik Dynamite (2016)
Emmure
Earth Crisis
Einstürzende Neubauten
Elm Street
Enslaved
Envenomed
Every Time I Die
Europe
Fear Factory (2010, 2013)
Fintroll
Five Finger Death Punch (2009, Soundwave 2014)
Foo Fighters
Ace Frehley (2010, 2015, 2017, 2018)
Fozzy
Diamanda Galás
Gay Paris
Ghost (Hifi Bar, Big Day Out)
Goatwhore (2010, 2012)
Gojira (2012, 2014, Soundwave, Download Festival 2018)
Graveyard Rockstars
Harlott
Hate Internal
Hatebreed
Havok
H.I.M
The Hives
Hobbs' Angel Of Death
Holy Serpent (2015, 2016)
The Horrors (2009, 2011)
Rowland S Howard
Glenn Hughes
Hybrid Nightmares
Iced Earth
Frank Iero
Ihsahn (Direct Underground Fest, 2018)
ill Nino
Impiety
In Heart's Wake
In Flames
In Malice's Wake
In Trenches
Inquisition
Iron Maiden
The Iron Maidens
Jim Jones Revue
Kadavar
Karnivool
Katatonia
Killswitch Engage (2013, 2017)
Kill Devil Hill
Killing Joke
King Fate
King Of The North
King Parrot (2014, 2015, Download Festival 2018)
Kingswood
Kings Destroy
KISS
Korn (2014, Soundwave 2014, Download Festival 2018)
Kreator (2014, 2016)
Kromosom
Kvelertak
Kylesa
Kyuss Lives
L7
Lacuna Coil
Lamb Of God (2009, 2013, 2016)
Jesse Leach
letlive (2013, 2017)
Lock Up
Dave Lombardo
Los Hombres Des Diablo
Courtney Love
Lydia Lunch (2015, 2018)
Machine Head
Yngwie Malmsteen
Mammoth Mammoth
Marduk (2014, 2015)
Marilyn Manson
Mason
Mastodon (2012, 2015 , Download Festival 2018)
Max & Iggor
Mayhem (2014, 2018)
Maylene & the Sons of Disaster
Meshuggah (2012, 2013)
Metallica
Misfits (2011, 2015)
Monarch
Monster Magnet
Morbid Angel (2009, 2014)
Motörhead
Mushroomhead (2014, Soundwave)
Mystery Jets
Napalm Death (2009, 2017)
Nashville Pussy
Ne Obliviscaris
New York Dolls
Night Legion
Nightwish (2013, 2016)
Nile
Norma Jean
Northlane
Nothing Sacred
Gary Numan (2009, 2011)
Obituary
Old Man Gloom
Opeth (2009, 2013, 2015, 2017)
Orange Goblin
Orsome Welles
Otep
Overkill
Pain
Pallbearer
Palace Of The King
Papa Roach
Party Vibez
Periphery (2009, 2015)
PiL
Persecution
Robert Plant
Poison The Well
Primus (2014, 2018)
Prophets Of Rage
Psycroptic
Queensryche
Sabaton
Saint Vitus
Satyricon (2009, 2014)
Scorpions
Seether
Sevendust
Sepultura (2014, 2018)
Shadow's Fall
Shihad
Gene Simmons
Sisters Of Mercy
Skindred
Slash
Slayer
Slipknot (2013, 2016)
Soil
Sons Of Anarchy
Sodom
Solstafir
Soulfly
Steel Panther (2013, 2016, 2018)
Stone Sour
Suffocation
The Subways
Suicidal Tendencies
The Sword
Sydonia
Radio Moscow
Marky Ramone's Blitzkrieg
Red Fang (2013, 2015)
Revocation
Rise Of Avernus
Rose Tattoo
Ross The Boss
Rotting Christ (2010, 2014)
Ruins
Taberah
Tea Party (2011, 2017)
Terror Universal
Testament
Devin Townsend (2012, 2013, 2014, 2015)
Tool
Toxic Holocaust
Tricky
Trigger
Trivium (2014, 2014, 2016)
Turbonegro
Vista Chino (2014, Big Day Out)
Windhand
Ugly Kings, (2017, 2018)
Uriah Heep
Vader
Venom Inc
Voyager
Vulgod
Warped
Watain (2014, 2015)
Whitesnake
Wiegedood
Roger Waters
Weezer
Whitechapel
Witchgrinder, (2018)
Wolfpack
YLVA
Yob
Rob Zombie (2014, Soundwave)
(Does not include 2019, 2020 artists shot!)
And to all you who have liked, commented on, bought any of my photos – THANK YOU!
Any of you who have bought my books or t-shirts – THANK YOU!

To all my fellow photographers in the photo-pit – THANK YOU!